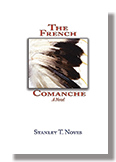 THE FRENCH COMANCHE
Summary: A boy's tutor retells his search for the boy for seven years after he is kidnapped by the Comanches in the late 1700s.
Arsène, the young son of the governor of French Louisiana, disappears in a blizzard on a trading trip in Comanche territory in 1789. For seven years, Jean-Pierre, the boy's tutor and guardian at the time of his disappearance, searches for him on trading trips into comanchería. At last he finds him, only to discover that he has become a Comanche warrior now known as Amabate (The One Without A Head). Amabate returns to Fort St. Jean Baptiste de Natchitoches, Louisiana Territory, for a reunion with his father, but cannot be convinced to stay. "I am Comanche!" he exclaims.
Over the years, Amabate makes unannounced visits to his father's home, sometimes with Comanche friends and relations, always painted and dressed as a warrior. Meanwhile, Amabate has joined a small band of "wolves," braves who pledge never to back away from a battle as they roam the plains and ranges west into the mountains of New Mexico. Later he takes three wives and eventually he becomes White-Bear, a respected Comanche chieftain.
As an elderly man, Jean-Pierre tells the story of Arsène and his two worlds in a colorful combination of French, Comanche, Spanish, and English. He reflects on the verities of human relationships, his love for Arsène and for Arsène's father, for the Comanche girl who was for a time Jean-Pierre's wife, for his French wife, and for his Comanche "brothers." Set in an authentic historical framework, the narrative explores the mores of two distinct cultures between the 1780s and the 1820s. We learn about the commerce of their days: stolen and traded ponies, war parties, battles with the Osage, love trysts, acts of bravery and revenge, prescient leaders, and prophetic dreams. The French Comanche is grounded in the dramatic sweep of history. The traders' lives are affected by the French and Indian Wars, the American and French revolutions, Napoleon Bonaparte's annexation of La Louisiane, and the Louisiana Purchase by the United States. The Comanches, ranging outside of "civilization," are vulnerable to weather, illness, trade, enemy raids, and, as White-Bear foretells toward the end, the influx of American settlers.
Stanley T. Noyes grew up in California and was a writer, educator, and art's administrator. During World War II, he served in the U.S. Army in the Ruhr campaign in a reconnaissance troop. They crossed the Rhine ahead of U.S. forces and later liberated slave labor camps. He was awarded the Bronze Star. When he returned he attended the University of California, Berkeley where he met and married fellow student Nancy Black in 1949 and earned his B.A. and M.A. degrees. For sport he rode bareback horses and bulls in rodeos in California and Nevada. Later Stan taught college at Cal extension and California College of the Arts. He lived in France with his family for about six years.
They moved to Santa Fe in 1964 and he taught at the College of Santa Fe, and briefly at the University of New Mexico. He later was a program director for the New Mexico Arts Division. Stan was a published author of poetry, fiction, and non-fiction, notably Los Comanches, The Horse People, 1751–1845, a history of the Comanche Indians now from Sunstone Press in a new edition.
Noyes was an avid hiker in the mountains of New Mexico often accompanied by his wolf hybrids. He spent many summers hiking the Pyrenees with his family and close French and Spanish friends.